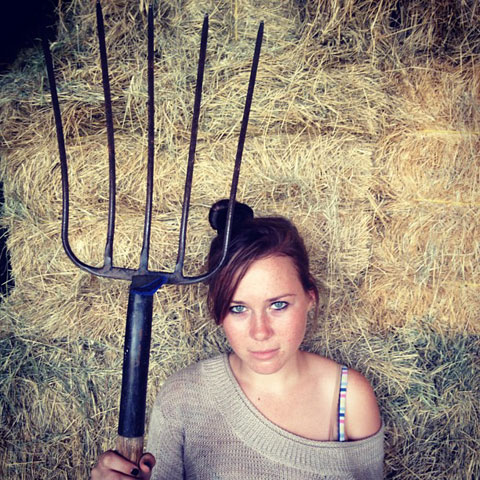 There was a lot of chatter about the Pitchfork People's List only having a 12% female participation rate, and 0% of female solo artists appearing in the top 50 albums. Some I agree with, some I don't. Jody Rosen at Slate called the list a scandal because it was largely white and largely male, though, he notes, nothing about this list is surprising to anyone who reads Pitchfork.
He's right, it's not. There's no question that music nerdom and the "indie" music industry is a white boy's club. I dare you to find someone who doesn't agree. Do it! I'll wait.
There's no question that it's a huge problem.
Rosen counts two records by female artists in the top 50 of the People's List, and 23 in the top 200. He notes that he "makes room" for co-ed bands like The xx, Beach House, and Portishead.
Rosen's list is more crazy-making to me than Sleater-Kinney not showing up on the People's List at all.[1] It doesn't help this huge gender imbalance in rock to discount females playing in mixed-gender bands—or, to even "make room" for them—because when you do that, you automatically count their contributions as male. Do female musicians in mixed-gender bands not count as much as the men? Do you think that the ladies in these bands are just following the men's lead? Do you assume that one girl in a band is there to be that girl in the band? Do you think we all have too much sperm in the brain?
This kind of thinking just perpetuates the boy's club mentality, and is yet another kind of gender stereotype in rock: that women are there to look pretty. They're with the band, not of the band. It's a really reductive way of thinking about female participation in rock.
I don't know what 23 records made Rosen's count, but is Yo La Tengo one of them? Does Georgia Hubley–one of the founding members who sings, plays drums, and writes a lot of the songs–not count because she's married to Ira? What about the ladies in Broken Social Scene? What about Meg White? Do we write off half of the White Stripes because Jack taught her how to play the drums? The Arcade Fire? When you say that you're making room for Beach House, are you trying to make room for the possibility that Victoria Legrand's contribution isn't as valued as as Alex Scally's?
If you're not going to count those records as female artists, then you can't count them as male either.
I counted 46—with my own murky gender math—which is in no way a great number, but it's better than 23.
__________________