In Lieu of a Better Plan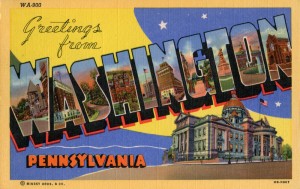 Driving home this weekend, I passed a billboard on I-70, five or so miles outside my hometown, selling something called FracWear. Tagline: "We Keep You Clean." Washington is a small Western Pennsylvania town that had been the heart of the Whiskey Rebellion in 1791, and not much else until it became an epicenter for fracking a couple years ago. 2011 was the first time in fifty years that Washington hadn't lost population.
I went home to see my grandmother after she had broken her right hip. She's 94 and about 80 pounds, and this is the third time she's fractured something. Every time I helped her adjust her legs on the couch, my spine tingled. I was terrified that I would break her even more.
We're all worried about her appetite, so I made an extra effort to bring her things that she would want to eat. She had spent fifteen years being teased by rumors of an Olive Garden coming to Washington. She likes their eggplant parm. They finally built one a couple of months ago, next to the new Max and Erma's, which is next to the new outlet mall, which is across the street from the new casino/racetrack/four star restaurant.
When I was in high school, no one moved to Washington. You had to drive 45 minutes to the good mall. There weren't many places to hang out underage, so I usually camped out in the back section at Eat 'N Park on Fridays so my friends could smoke. Now, there is every chain restaurant you can think of, and you don't have to drive far to find a decent pair of jeans.
Washington was only a place you moved away from. I moved to Texas when I was 21 to get as far away as I could manage.
When I'm home, I usually end up meeting friends who stayed in town at TGI Friday's. But this time, we decided to go somewhere for a drink "that isn't new" and ended up at the restaurant we used to frequent in high school when we wanted to be grownup. There was a 30-minute wait, and the bar was also full, but my friend knew the host. He somehow relocated a couple at the end of the bar, and we snuck into their seats.
Everything is full in Washington now. The bars are full, the restaurants are full, the parking lots are full. John Waters couldn't find a hotel room. The rental market is impossible. There aren't enough apartments to house all of the men who have come to drill, so a few golf courses are renting out spaces in their parking lots for RVs. I saw signs in the lawns of East Maiden—the fancy part of Washington—renting out rooms in their homes.
The bar was full of men with short hair eating dinner alone. My friend and I gossiped about the people in high school who had cheated on their spouses, and which people are still obsessed with their high school crushes. After ten minutes, a couple stood behind me, chatting, and my friend leaned over and whispered, "Notice the accent."
I braced myself. I don't know what I was expecting, but it wasn't a Texan accent. The guy ordered a Shiner, but they didn't have it. He ordered a Lone Star, but they didn't have that either. He finally gave up and ordered a Bud Light.
I remember being in a similar state of shock when I moved to Austin a decade ago, trying to order a beer at Lovejoys or the Showdown. Places that aren't even around anymore as Austin is going through its own kind of development boom.
My friend has been trying to sell her house for over a year. She's had two previous offers, and they've both backed out. But now there's a real offer, and she has to move out by the end of March. They don't have a new house to move into.
There are about 10 houses on the market in all of Washington County. People are buying up all the available houses and turning them into apartments for the influx of drillers. There's barely anything left, especially houses attached to land. Everyone is leasing or selling their mineral rights because they don't want to be left out. In lieu of a better plan, she and her boyfriend are moving into her parents' house for a month or so until they can find something.
Washington is now a great place to sell things.
When I drove back to my grandmother's condo on top of South Main Street, I passed an even-stranger thing besides a Texan: a traffic jam. Cars were lined up on Park Avenue trying to make a left turn into downtown. The headlights went all the way around the bend, past the road that leads to my old house, past my high school. It reminded me of the hundreds of car headlights in the last scene of The Field of Dreams, when Kevin Costner knows he has saved the farm.
But instead of lining up to restore a past, as they were in the movie, these cars are lining up to help take apart the land and drink our mediocre beer.